About us
Are you on a search for a place where you can feast on the most authentic Thai dishes? Baan Phra Ya Thai Restaurant is a great place for you and your family if you want to try something new. We specialize in cooking Thai dishes such as Satay Chicken, Curry Puffs, Ban Krib Tod, Money Bags, Dim Sims, Tom Yum, Red Curry, Creamy Curry, Gand Massaman, Fish Cakes, Singapore Noodles, Pad Thai, Tom Kar, Goong Nam Dang, Baan Phraya Soup, Stir Fried Duck and more. We are currently located at 20/353 Beaconsfield Road, Brighton QLD. We accept online orders daily.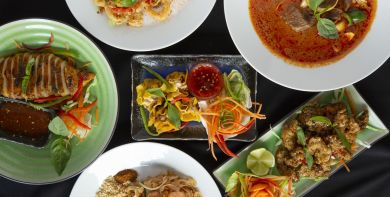 Reviews
Paul
"Great food friendly delivery"
7/04/2020
Stuart
"Very good, fantastic food, nice people."
5/04/2020
Natalie
"Great Food."
5/04/2020
Christie
"Delicious"
4/04/2020
Annie
"We We loved our meal tonight thank you !"
2/04/2020
Chris
"Absolutely amazing flavours! We wanted to support a local restaurant struggling from reduced patronage due to Covid-19. We weren't disappointed and definitely will order again."
27/03/2020
Melissa
"Best Thai ever! We live in carseldine and travel here after a friend put us onto it. It's now the only Thai we will eat as it's guaranteed consistent fresh, delicious this food"
17/03/2020
Chantelle
"Delicious food. Will definitely order again."
11/03/2020
Josh
"The best."
19/02/2020
J-P
"The food was amazing!"
5/02/2020
Paul
"Best Thai in the Bay."
9/01/2020